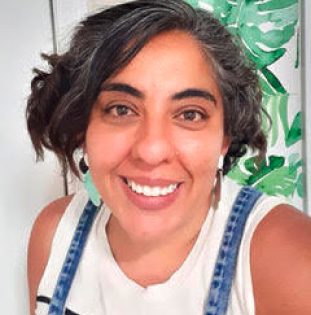 Nadeen Bir
Director of Finance and Human Resources
Nadeen Bir (she, her) is a Palestinian-American who grew up in Kentucky and South Carolina. Since 2002, she has worked with social justice movements in North Carolina, particularly with immigrant/Latinx communities, farmworkers, and labor rights organizations. She has worked with youth of all ages and families and has held various leadership positions at El Pueblo, IUE-CWA nonprofit workers union, El Centro Hispano, and Student Action with Farmworkers. She has fought for in-state tuition, an end to child labor, and supported worker-led campaigns. Most recently, she worked as the Associate Director at Southern Vision Alliance, a Southern regional movement infrastructure organization working to disrupt and transform power for collective liberation. Nadeen studied Spanish and political science at the College of Charleston, SC. She enjoys spending time in nature with her family and their dog Mr. Scruffers.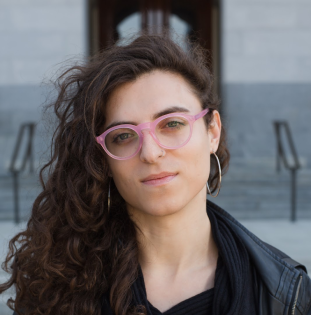 Coral Feigin
Director of Program Operations
Coral (she, her) is an abolitionist organizer, freedom schemer and behind-the-scenes infrastructure builder based in Middle Tennessee. She is a queer white Jewish trans femme who has worked in racial, gender, and economic justice movements for over 10 years. Coral has organized with organizations including Critical Resistance, the Transgender Gendervariant Intersex Justice Project, and the Western Regional Advocacy Project to fight for a world free of policing, imprisonment, surveillance, and the criminal legal system. She fell in love with Southern queer and trans organizers which siren sung her to root herself in the struggle for liberation in the South.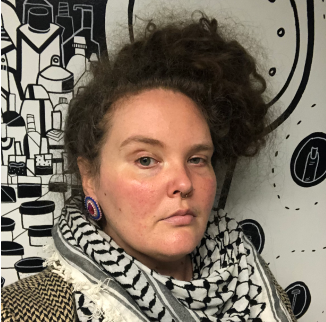 Alyzza May
Director of Development
Alyzza May (they, them) is an angelic troublemaker, moving in the lineages of cultural workers, popular educators, and community builders alike. They bring over a decade of grassroots fundraising experience to Press On, most recently showcasing this skill with Greensboro Mutual Aid. Co-creating aspects of the solidarity and new economies have been a focus of theirs, having helped bring the first participatory budgeting process to the South in Greensboro, North Carolina, working with the Fund for Democratic Communities in the field of cooperative economics, curating over a dozen community-engaged murals, and most recently helping to launch Freedom Fridges. Alyzza is a former member of Cakalak Thunder, plant daddy, and a proud Titi to two puntastic twins.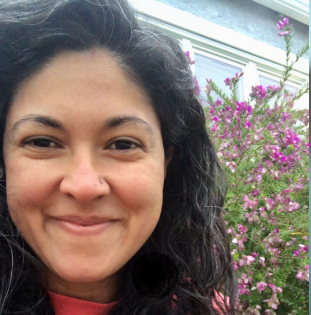 Yashna Padamsee
Director of Organizational Development
Yashna Maya Padamsee is a first generation South Asian immigrant queer femme raised in and by the U.S. South. Yashna has spent more than 15 years supporting social movements through creating innovative infrastructure and sharing liberatory healing practices. The last decade of her previous work was as the Program Manager at generative somatics (gs) and as the Events Director at the National Domestic Workers Alliance. She has also been an adult literacy program coordinator in Durham, North Carolina, a faith-based immigrant rights organizer at the Bay Area IAF, moderated a community care discussion on OrganizingUpgrade.com, and has been the lead of a disability justice committee at gs.
Yashna holds a Bachelor of Arts in Film, Animation, and Video from RISD, a Yoga teacher certificate from the Sivananda Ashram, and is a 4th-year Teacher-in-Training at generative somatics. She is a co-founder and moderator of RadOps, a justice-based group for operations workers in movement organizations.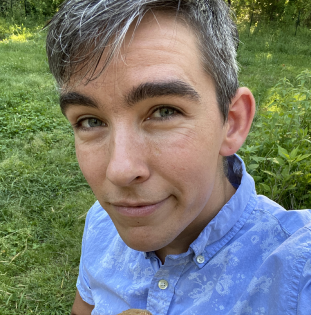 Lewis Raven Wallace
Director of Education
Lewis Raven Wallace (they, ze, he) is an award-winning independent journalist based in Durham, North Carolina, and a co-founder and co-director of Press On. He's the author of "The View from Somewhere: Undoing the Myth of Journalistic Objectivity" (University of Chicago Press, 2019), and the host of "The View from Somewhere" podcast. Lewis previously worked in public radio, and is a long-time activist engaged in prison abolition, racial justice, and queer and trans liberation. He is a frequent public speaker and trainer on topics including legacies of resistance in journalism and transforming journalism for the 21st century. He is White and transgender, and was born and raised in the Midwest with deep roots in the South. When he's not working, he plays the accordion, writes poetry, and spends time with his dog named Turtle, 12 chickens, and his pigs: Dogwood, Venus Banana, and Gilbert.