2023-2025 Advisory Circle
Press On's advisory circle reviews our recent programmatic work and offers feedback for improvement and feedback about things going well that should continue; gives feedback about our alignment with our mission, values, and guiding principles; and creates a shared analysis of the political and media landscapes and what interventions are needed.
Members meet four times a year, once at the beginning of each quarter, and commit to a two-year term. The advisory circle consists of past participants, past staff members & collaborators, stakeholder convening participants, Southern movement journalists, and Southern movement organizers.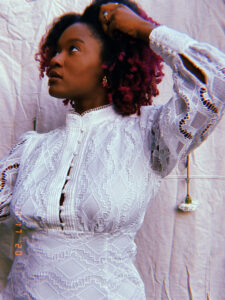 Clarissa Brooks


Clarissa Brooks (they/she) is a former community organizer from Charlotte, North Carolina and alumna of Spelman College. Her dedication to black liberatory work began as a student organizer fighting against racialized sexual violence. Currently based in Atlanta, as a freelance journalist Brooks has written for various publications on a variety of topics from profiles over upcoming artists like Florida rapper Saucy Santana for Rolling Stone to an investigative report on the passing of 19-year-old activist Oluwatoyin Salau for Harpers Bazaar. She now serves as editor at Reckon News.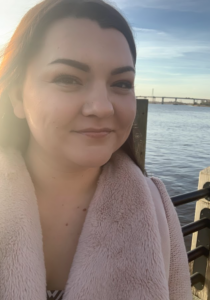 Nicki Faircloth


Nicki Faircloth (she/her) is a nonprofit director, board member, storyteller and communications consultant, assisting nonprofits, foundations and government agencies. She serves as a Prismatic Artist Resident through the Cypress Fund and is a member of Cohort II of the UNC Native Leadership Institute. She is a co-founder of Indi/visible, an organization focused on using culture and the arts to promote healing for friends and family of MMIW. Additionally she is a sister of Sigma Omicron Epsilon, an enrolled member of the Skaroreh Katenuaka Nation (Tuscarora) and resides in Wilmington, North Carolina.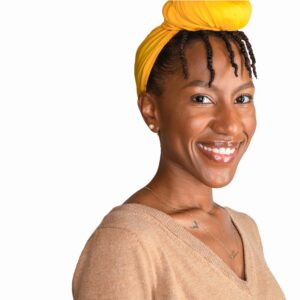 Kési Felton
Kési Felton (pronounced "Casey," she/her) is a writer from Acworth, GA. Through storytelling, her goal is to learn how to best leverage digital platforms to tell impactful stories that translate to lasting communities in real life. She is the founder and publisher of Better to Speak, a Black youth-led community media platform working to transform silence into language and action.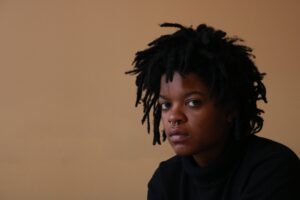 Jupe Javeta
Jupe Javeta (they/them) is a Black southern, queer, nonbinary person who resides in Albany, Georgia where they were born and raised. They are an artist, culture keeper and community member who practices community healing through visual art, documentation, written work, and installations. Having grown up in the small city of Albany, Jupe fully believes in the power of intentionality + integrity. Jupe founded dts (down the street) media as a culturally insightful and community minded arts platform. Their visual work (photography & documentary short films) center reconciliation and reprieve for Black folks in the Deep South. Their written work centers grief as a ritual and rites process, and digs into the transformative potential of grieving. Their community work (events and arts spaces) focuses on marginalized communities and connecting people across those communities to places/spaces of rest, affirmation and communion. In each modality, they are driven by a deep love for their people and a determination to reflect it back to the communities they come from.   As a compliment to their upbringing, they also have an educational background in Design & Media (A.A.S.), Carpentry (Technology Diploma), and Afro-American Studies (several courses). With their lived experiences and educational experiences, Jupe brings an intersected lens that guides their creative processes.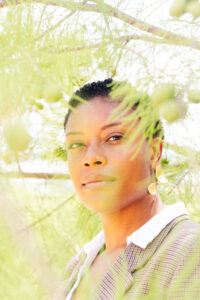 DaLyah Jones
DaLyah Jones (she/her) was born and raised behind the "Pine Curtain" of rural Deep East Texas. She serves as the program officer for Borealis Philanthropy's Racial Equity in Journalism Fund. She is the former Director of Engagement and staff writer for the watchdog magazine Texas Observer. She's also a former board member and Freedomways Fellow with movement journalism – journalism in service of liberation – collective Press On. DaLyah's work in news and storytelling has been aimed at providing coverage to and by historically disadvantaged communities in Texas, especially in the rural regions. Her past work can be found at NPR, Texas Monthly, NBC Think, OkayPlayer, Texas Highways Magazine and more.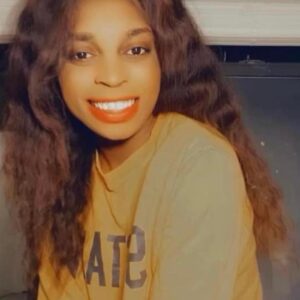 Serena Sonoma
Serena Sonoma (she/they) is a writer by way of North Carolina who focuses on intersectional feminism from an LGBTQ+ lens, specifically in its relation to cissexism and transmisogyny. Her work has appeared in Vox, Out, Teen Vogue, Harper's Bazaar, and various other news publications.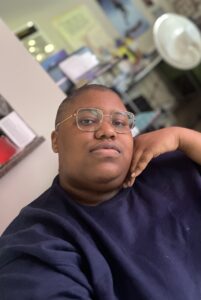 V Starks
V Starks (they/he) is a filmmaker, cultural worker, and educator whose work is rooted in their experiences as a Black, Queer, southern artist. V is interested in the use of film as a tool for disrupting dominant narratives, documenting community histories, and exploring the relationships between race, class, gender, and sexuality. Their directing and producing work primarily center the lives and experiences of Black women and QTBIPOC communities.  V hopes to continue developing relationships and infrastructure with fellow artists organizing toward a more liberated South. They are the founder of the Sweet Tea & Cinema Collective, an emerging group of artists from across the Black Belt who are collectivizing their resources and developing community-oriented, anti-imperialist, and anti-capitalist film practices.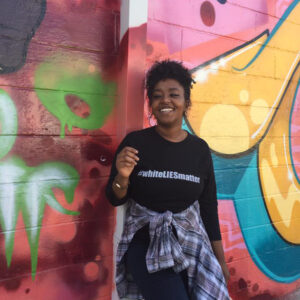 Nada Merghani
Nada Merghani (she/they) is an award-winning movement journalist, digital communications expert, unapologetic Scorpio, and a Type 1 Diabetic living in Durham, North Carolina. As a Nubian person born in Sudan, they are deeply committed to the values of Pan-Africanism and think all people of African descent deserve the right to find connection and solidarity amongst each other as we all fight for our collective liberation. They are also a proud HBCU student currently navigating their last semester at N.C. Central University! 🦅  Nada believes in a world where journalism is accessible and used to help explain the murky and complex parts of the world in a way that's simple enough for all to understand. Storytelling is their passion, and they believe in journalism as one of the most important and effective forms of storytelling we have at our disposal. They have been published in a variety of local and statewide outlets, interned at WUNC and PBS NC, and are currently employed as the Digital Infrastructure Coordinator for the Southern Vision Alliance.  When they are not working or studying Nada can be found cooking for their friends, swimming, rewatching old Real Housewives of Atlanta clips with their cat, or loudly (and badly) singing along to Beyonce songs.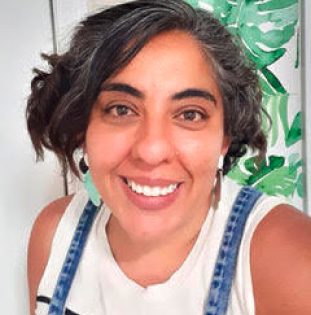 Nadeen Bir
Director of Finance and Human Resources
Nadeen Bir (she, her) is a Palestinian-American who grew up in Kentucky and South Carolina. Since 2002, she has worked with social justice movements in North Carolina, particularly with immigrant/Latinx communities, farmworkers, and labor rights organizations. She has worked with youth of all ages and families and has held various leadership positions at El Pueblo, IUE-CWA nonprofit workers union, El Centro Hispano, and Student Action with Farmworkers. She has fought for in-state tuition, an end to child labor, and supported worker-led campaigns. Most recently, she worked as the Associate Director at Southern Vision Alliance, a Southern regional movement infrastructure organization working to disrupt and transform power for collective liberation. Nadeen studied Spanish and political science at the College of Charleston, SC. She enjoys spending time in nature with her family and their dog Mr. Scruffers.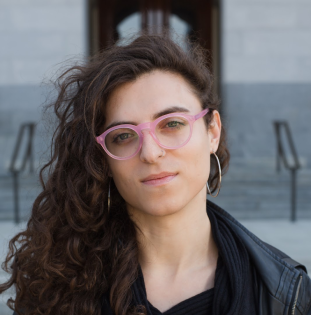 Coral Feigin
Director of Organizational Development
Coral (she, her) is an abolitionist organizer, freedom schemer and behind-the-scenes infrastructure builder based in Middle Tennessee. She is a queer white Jewish trans femme who has worked in racial, gender, and economic justice movements for over 10 years. Coral has organized with organizations including Critical Resistance, the Transgender Gendervariant Intersex Justice Project, and the Western Regional Advocacy Project to fight for a world free of policing, imprisonment, surveillance, and the criminal legal system. She fell in love with Southern queer and trans organizers which siren sung her to root herself in the struggle for liberation in the South.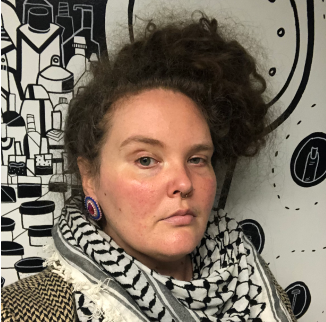 Alyzza May
Director of Development
Alyzza May (they, them) is an angelic troublemaker, moving in the lineages of cultural workers, popular educators, and community builders alike. They bring over a decade of grassroots fundraising experience to Press On, most recently showcasing this skill with Greensboro Mutual Aid. Co-creating aspects of the solidarity and new economies have been a focus of theirs, having helped bring the first participatory budgeting process to the South in Greensboro, North Carolina, working with the Fund for Democratic Communities in the field of cooperative economics, curating over a dozen community-engaged murals, and most recently helping to launch Freedom Fridges. Alyzza is a former member of Cakalak Thunder, plant daddy, and a proud Titi to two puntastic twins.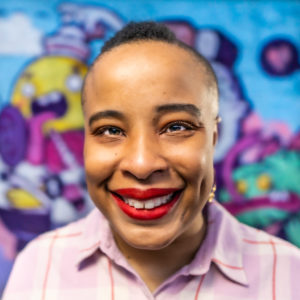 Neesha Powell-Ingabire                                                                                           
Director of Popular Education
Neesha Powell-Ingabire (any respectful pronouns) is a coastal Georgia-born-and-raised movement journalist, essayist, community & cultural organizer, resource mobilizer, cat parent, spouse, and auntie living in Atlanta/occupied Muscogee territory.
She first engaged with Press On in 2019 as one of the inaugural Freedomways reporting fellows, producing two stories about reproductive injustices in Georgia and collaborating with SPARK Reproductive Justice NOW on a live podcast about how fake clinics (so-called "crisis pregnancy centers") harm pregnant people by coercing them into not seeking abortion care. She also received a grant from Press On's Southern Movement Media Fund in 2020, allowing her to report on environmental threats to Gullah Geechee culture in her home county.
Neesha graduated with a Master of Fine Arts in Creative Writing from Georgia College. Over the past decade, her writing has been published in various online and print publications, including Harper's Bazaar, Oxford American, Scalawag, and VICE. She reports on the justice movements of the Black, trans, queer, and Southern communities to which she belongs and writes essays to recover her own history and the histories of her ancestors and their ancestral homes. Her debut book, Come By Here: Memory, Murder, and Homecoming on Georgia's Geechee Coast, will be published by Hub City Press in fall 2024.