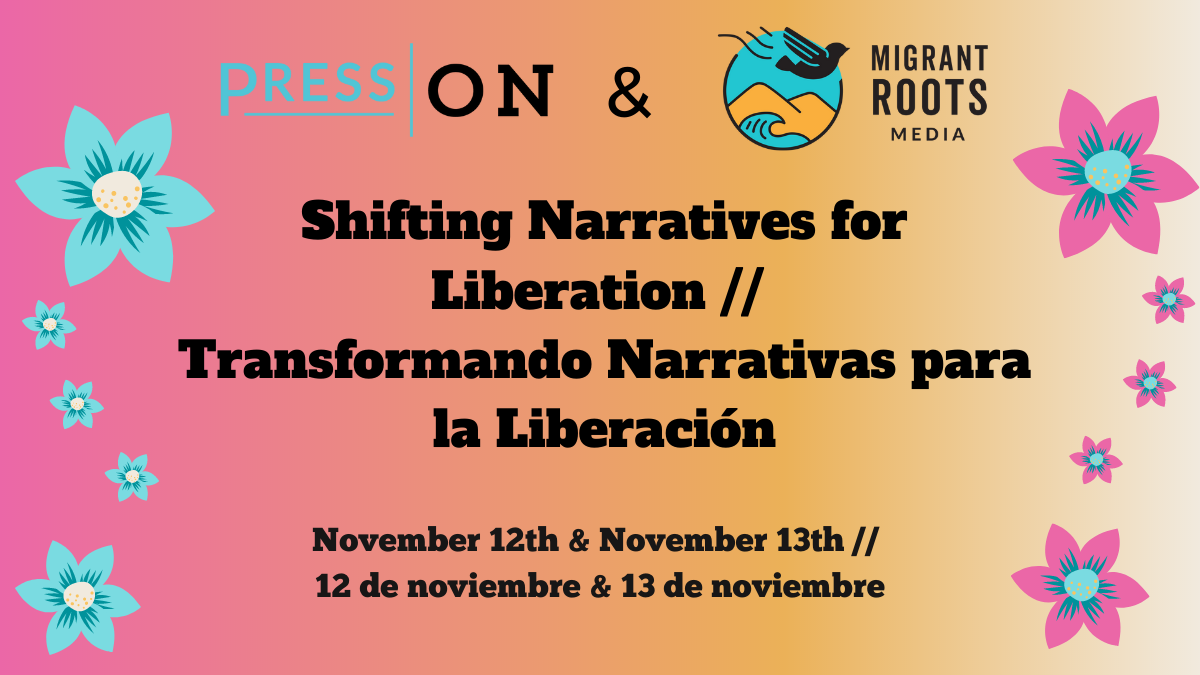 Shifting Narratives for Liberation: A Racial Justice Intensive for Journalists and Media-Makers
When
Friday, November 12, 2021, 6-8 p.m. EST/5-7 p.m. CST
Saturday, November 13, 2021, 11 a.m.-3 p.m. EST/10 a.m.-2 p.m. CST, with a one-hour lunch break
Apply to attend
Applications are due October 15, 2021.
Deadline extended! Applications are due by end of day Monday, October 18, 2021.
Click here to apply.
---
Calling all movement media makers, journalists of conscience, radical storytellers, and reporters. Are you ready to shift toxic narratives around white supremacy, racial justice, and (im)migration? Are you doing that work already, and looking to build a community of practice with other reporters in the same boat? Join Press On and Migrant Roots Media for an intensive Zoom workshop: Shifting Narratives for Liberation, our second intensive this year.
In this dynamic online gathering, participants will learn what narrative shifting is and how to center root causes in the stories we tell; build community and connection with other journalists and media-makers working for liberation; and leave with a concrete tool for analyzing the narrative framing in their own stories.
Facilitators and presenters will include Chelsea Higgs Wise, Jasmine Leeward, Page Dukes, Lisa Gilbert, Olivia Paschal, Roxana Bendezú, Lewis Raven Wallace, and Tina Vásquez.
Schedule
Friday, November 12

Keynote: "Four Steps to a Just Narrative" with Chelsea Higgs Wise and Jasmine Leeward (Virginia)
Saturday, November 13

Breakout topics:
"Centering Root Causes to Transform Narratives" with Roxana Bendezú and Tina Vásquez (North Carolina)

"Nothing but the Truth: Un-Covering Criminal Systems" with Page Dukes (Georgia)

"The Journalist and The Activist: Reclaiming the Narrative of the Elaine Massacre" with Lisa Gilbert and Olivia Paschal (Arkansas)
Attend
This gathering is sliding-scale from $150 to $0, and stipends are available for food and child care to make it possible to attend.
We prioritize Southerners, Black people, Indigenous people, people of color, disabled people, queer and trans people, working class and low-income people, and (im)migrants. Space is limited.
Applications are due October 18, 2021. Click here to apply.
About
Press On is a Southern media collective that catalyzes change and advances justice through the practice of movement journalism.
We are journalists, storytellers, and organizers rooted in, and practicing solidarity with, oppressed communities that birth social movements. We are based in the South, and we strive to uphold Southern traditions of storytelling that have long resisted the systems of extraction, exploitation, and colonization that have defined mainstream journalism.
By providing a diverse set of resources including trainings, fellowships, and opportunities for network-building, Press On aims to help journalists and storytellers produce reporting that's driven by communities that are building power to create transformative social change.
#MovementJournalism
Migrant Roots Media (MRM) is a digital platform that amplifies the voices of (im)migrants, children of migrants, and those struggling to stay and thrive in their homelands to unearth the root causes of global migration. 
We strategically position intersectional voices so they can aid in advancing narratives and socio-political analyses concerning migration and other social issues. Through investigative and first-person articles, media workshops, and campus collaborations, we work to reframe discourses around migration and human mobility. 
#WeTellOurOwnStories
Meet the facilitators
Roxana Bendezú (she, her) is a descendant of the Quechua People of the Andes, born and mostly raised in Lima, Perú. She is an activist documentarian, socio-political analyst, and has been working on pro-migrant, pro-human rights causes at different capacities for the last decade. Roxana is the founder and executive director of Migrant Roots Media.
Page Dukes is a founding member of Mourning Our Losses and Georgia Freedom Letters and a comms staffer for the Southern Center for Human Rights, raising awareness about the effects of incarceration and advocating for accurate media representation.
Coral Feigin (she, her) is Press On's Program Operations Manager, an abolitionist organizer, freedom schemer, and behind-the-scenes infrastructure builder based in Middle Tennessee. She is a queer white Jewish trans femme who has worked in racial, gender, and economic justice movements for over 10 years. Coral has organized with organizations including Critical Resistance, the Transgender Gendervariant Intersex Justice Project, and the Western Regional Advocacy Project to fight for a world free of policing, imprisonment, surveillance, and the criminal legal system. She fell in love with Southern queer and trans organizers which siren sung her to root herself in the struggle for liberation in the South.
Lisa Gilbert was born and raised in Elaine, Arkansas and the surrounding communities. She didn't learn about the Elaine Race Massacre until 2008. In March 2020, Lisa founded the "Descendants of the Elaine Massacre of 1919" to amplify the voices of the descendants of the Elaine Massacre victims, reclaim the narrative, and ensure the work included educating the masses about the Elaine Race Massacre, and that the work honors the ancestors and those lost.
Chelsea Higgs Wise is a mom, clinical social worker, and narrative strategist. In 2018, Chelsea created the podcast "Race Capitol," which interrogates racial narratives in the capital of the Confederacy of Richmond, Virginia. In 2019, Chelsea co-founded a nonprofit called Marijuana Justice, which works to repeal, repair, and bring reparations per the failed War on Drugs to fund Black futures.
Jasmine is an activist, narrative strategist, and emerging filmmaker committed to the delicate work of culture-shifting towards Black and Brown liberation, particularly in the U.S. South. She has worked as a communications specialist for Women's March Inc.; ReFrame; and New Virginia Majority, a group organizing for racial, environmental, and economic justice through strategic electoral work and grassroots campaigns. Jasmine is a 2019 Echoing Ida fellow, a 2020 Visionary Justice StoryLab fellow, and a 2021 Rockwood JustFilms fellow. Her first short film "dusk" was selected for the 2020 Africana Film Festival.
Jasmine's primary goal as a filmmaker is to translate complex policy and Black realities into accessible stories that inspire people to action. Her work is anchored in pan-africanism. She sees her art as a reflection of Audre Lorde's definition of survival: learning how to stand alone, unpopular, and sometimes reviled, and how to make common cause with those others identified as outside the structures in order to define and seek a world in which we can all flourish. 
Olivia Paschal is a doctoral student in history at the University of Virginia, where she is studying 20th century rural history through the lens of land, labor, and capitalism. She is also a freelance writer and a contributor at Facing South. Before graduate school, she was an investigative reporter with Facing South for two years covering the rural South, Southern politics, and the poultry industry during the COVID-19 pandemic. She previously worked at The Atlantic. Olivia's reporting has appeared in local, regional, and national publications in multiple languages, including Spanish and Marshallese. You can find her on Twitter @oliviacpaschal or on the World Wide Web at oliviapaschal.com.
Tina Vásquez is a senior staff writer at The Counter focusing on immigration, gender, and food systems. She currently serves on the board of Press On. She was previously a senior reporter at Prism, a women of color-led nonprofit news outlet. A 2020 Type Investigations Ida B. Wells Fellow, she has written for The Nation, NPR, Playboy, and the Boston Globe. She is based in North Carolina.
Lewis Raven Wallace (he, they, ze) is an award-winning independent journalist based in Durham, North Carolina, the author and creator of The View from Somewhere book and podcast, and a co-founder and co-director of Press On, a Southern movement journalism collective. He previously worked in public radio, and is a long-time activist engaged in prison abolition, racial justice, and queer and trans liberation. He is white and transgender, and was born and raised in the Midwest with deep roots in the South.
---
Transformando Narrativas para la Liberación: Un Intensivo de Justicia Racial para Personas Periodistas y Creadoras de Medios
Viernes 12 de noviembre: 5PM – 7PM CST // 6PM – 8PM EST
Sábado 13 de noviembre: 10AM – 2PM CST // 11AM – 3PM EST, con una pausa de una hora para el almuerzo
---
Hacemos un llamado a todas las personas creadores de medios de movimientos sociales, periodistas de conciencia, narradoras/es radicales y reporteras/os/es. ¿Estás listo/a/e para cambiar las narrativas tóxicas sobre la supremacía blanca, la justicia racial y la (in)migración? ¿Ya estás haciendo ese trabajo y buscas construir una comunidad de práctica con gente como tú? Press On y Raíces Migrantes te invitan a un taller intensivo por Zoom: Transformando Narrativas para la Liberación, nuestro segundo intensivo de este año.
En esta reunión dinámica en línea, las personas participantes aprenderán qué es la transformación de narrativas y cómo centrar las raíces causales en las historias que contamos; construir comunidad y conexión con otros/as/es periodistas y personas creadoras de medios que trabajan por la liberación; y se irán con una herramienta concreta para analizar el marco narrativo en sus propias histories.
Las personas que estarán facilitando y presentando incluirán a Chelsea Higgs Wise, Jasmine Leeward, Page Dukes, Lisa Gilbert, Olivia Paschal, Roxana Bendezú, Lewis Raven Wallace y Tina Vásquez.
Conferencia magistral del viernes: "Cuatro Pasos para una Narrativa Justa" con Chelsea Higgs Wise y Jasmine Leeward (Virginia)
Temas para grupos del sábado:
"Centrando las Raíces Causales para Transformar Narrativas" con Roxana Bendezú y Tina Vásquez (Carolina del Norte)
"Nada más que la Verdad: Des-Cubriendo los Sistemas Penales" con Page Dukes (Georgia)
"La Persona Periodista y la Persona Activista: Reclamando la Narrativa de la Masacre de Elaine" con Lisa Gilbert y Olivia Paschal (Arkansas)
Esta reunión tiene una escala de pago con un rango de $150 a $0, y hay becas disponibles para alimentos y cuidado de menores para que se facilite la asistencia. Damos prioridad a las poblaciones Sureñas, Negras, Indígenas, racializadas, personas con discapacidad, personas queer/cuir y trans, de clase trabajadora, de bajos ingresos e (in)migrantes. El espacio es limitado.
Haga clic aquí para presentar su solicitud antes del 18 de octubre
Press On es un colectivo de medios del Sur de EE.UU. que cataliza el cambio y promueve la justicia a través de la práctica del periodismo de movimientos sociales.
Somos personas periodistas, narradoras y organizadoras arraigadas y en solidaridad con las comunidades oprimidas desde donde se originan los movimientos sociales. Tenemos nuestra sede en el Sur de los EE.UU. y nos esforzamos por defender las tradiciones Sureñas de narración que durante mucho tiempo han resistido los sistemas de extracción, explotación y colonización que han definido el periodismo convencional.
Al proporcionar un conjunto diverso de recursos que incluyen capacitaciones, becas y oportunidades para la creación de redes, Press On tiene como objetivo ayudar a las personas periodistas y narradoras a producir informes impulsados ​​por comunidades que están construyendo poder para crear un cambio social transformador.
#PeriodismoDeMovimiento
Raíces Migrantes es una organización de medios independiente que centra las voces de personas (in)migrantes, hijos/as/es de migrantes y quienes luchan por quedarse y prosperar en sus comunidades de origen y así desentrañar las raíces causales de la migración global.
Posicionamos estratégicamente las voces interseccionales para que puedan ayudar a promover narrativas y análisis sociopolíticos sobre la migración y otros problemas sociales.
A través de artículos de investigación en primera persona, talleres de medios sociales y colaboraciones en campus universitarios, trabajamos para replantear los discursos en torno a la migración y la movilidad humana.
#ContamosNuestrasPropiasHistorias 
Biografías de las personas facilitadoras:
Roxana Bendezú (ella) es descendiente del Pueblo Quechua de los Andes, nacida y mayoritariamente criada en Lima, Perú. Es una documentalista activista, analista sociopolítica y ha estado trabajando en causas pro-migrantes y pro derechos humanos en diferentes capacidades durante la última década. Roxana es la fundadora y directora ejecutiva de Migrant Roots Media.
Page Dukes es miembra fundadora de Mourning Our Losses y Georgia Freedom Letters y miembra del personal de comunicaciones del Southern Center for Human Rights, creando conciencia sobre los efectos del encarcelamiento y abogando por una representación precisa en los medios.
Coral Feigin, Gerente de Operaciones de Programas (ella), es una organizadora abolicionista, maquinadora por la libertad y constructora de infraestructura detrás de escena basada en Middle Tennessee. Es una femme queer/cuir blanca Judía trans que ha trabajado en movimientos de justicia racial, de género y económica durante más de 10 años. Coral se ha organizado con organizaciones como Critical Resistance, Transgender Gendervariant Intersex Justice Project y Western Regional Advocacy Project para luchar por un mundo libre de vigilancia policial y de inteligencia, encarcelamiento, y del sistema legal penal. Se enamoró de los organizadores queer/cuir y trans del Sur que la animaron a enraizarse en la lucha por la liberación en el Sur.
Lisa Gilbert Nacida y criada en Elaine, Arkansas y en las comunidades circundantes, Lisa Hicks Gilbert no se enteró de la Masacre de Elaine Race hasta 2008. En marzo de 2020, Lisa fundó los "Descendientes de la Masacre de Elaine de 1919" para amplificar las voces de las personas Descendientes de las Víctimas de la Masacre de Elaine, reclamar la narrativa y asegurar que el trabajo incluya educar a las masas sobre la Masacre Racial de Elaine y que el trabajo honre a las/os/es ancestros ​​y a las vidas que se perdieron.
Chelsea Higgs Wise es madre, trabajadora social clínica y estratega narrativa. En 2018, Chelsea creó el podcast Race Capitol que interroga las narrativas raciales en la capital de la Confederación de Richmond, Virginia. En 2019, Chelsea cofundó una organización sin fines de lucro llamada Marijuana Justice que trabaja para derogar, reparar y traer reparaciones por la fallida Guerra contra las Drogas para financiar el futuro de las personas Negras.
Jasmine es una activista, estratega narrativa y cineasta emergente comprometida con el delicado trabajo de un cambio cultural hacia la liberación de las personas Negras y otras racializadas, particularmente en el Sur de Estados Unidos. Ha trabajado como especialista en comunicaciones para Women's March Inc .; ReFrame; y New Virginia Majority, un grupo que se organiza por la justicia racial, ambiental y económica a través del trabajo electoral estratégico y campañas de base. Jasmine fue becaria de Echoing Ida en 2019, miembra de StoryLab de Visionary Justice en 2020 y miembra de Rockwood JustFilms en 2021. Su primer cortometraje "anochecer" fue seleccionado para el Festival de Cine Africana 2020.
El objetivo principal de Jasmine como cineasta es traducir las políticas complejas y las realidades Negras en historias accesibles que inspiren a la gente a la acción. Su trabajo está anclado en el panafricanismo. Ella ve su arte como un reflejo de la definición de supervivencia de Audre Lorde: aprender a estar sola/o/e, impopular y a veces vilipendiado, y cómo hacer una causa común con aquellos otros identificados como fuera de las estructuras para definir y buscar un mundo en el que todas/os/es podamos prosperar.
Olivia Paschal es una estudiante de doctorado en historia en la Universidad de Virginia, donde estudia la historia rural del siglo XX a través del lente de la tierra, el trabajo y el capitalismo. También es escritora independiente y colaboradora en Facing South. Antes de graduarse, fue reportera de investigación en Facing South durante dos años, cubriendo el Sur rural, la política del Sur y la industria avícola durante la pandemia de COVID-19. Anteriormente trabajó en The Atlantic. Los informes de Olivia han aparecido en publicaciones locales, regionales y nacionales en varios idiomas, incluidos español y marshalés. Puede encontrarla en Twitter @oliviacpaschal o en la World Wide Web en oliviapaschal.com.
Tina Vásquez es una periodista del movimiento con sede en Carolina del Norte con más de 10 años de experiencia informando sobre inmigración, injusticia reproductiva y cultura. Actualmente es reportera y lidera la cobertura de Prism sobre justicia de género, derechos de los trabajadores e inmigración. Anteriormente, fue reportera senior que cubría temas de inmigración en Rewire.News, la principal publicación en línea dedicada a reportajes basados ​​en evidencia sobre salud sexual y reproductiva, derechos y justicia. Ella es miembra de la junta de Press On.
Lewis Raven Wallace (él/ellos/ze) es un periodista independiente galardonado con sede en Durham, Carolina del Norte, autor y creador del libro y podcast The View from Somewhere, y cofundador y codirector de Press On, un colectivo de periodismo del movimiento Sureño. Anteriormente trabajó en la radio pública y es un activista desde hace mucho tiempo comprometido con la abolición de las cárceles, la justicia racial y la liberación queer/cuir y trans. Es blanco y transgénero, y nació y se crió en el Medio Oeste con profundas raíces en el Sur.